Overview
Broad City is about two 20-something women living in New York City and their ride-or-die friendship. For these two, nothing is normal, everything is absurdist. It's still recognizable as real life, just a little more – funnier, riskier, rowdier, and probably more intoxicated.
Hey Ladies
Abbi Abrams and Ilana Wexler are just two best friends trying to have a good time. While amazingly compatible friends, they're very different people.

Abbi is a little older, a little wiser, and a lot more uptight. Abbi's her own worst enemy. She's an aspiring artist whose short-term goal is to be promoted from janitor to trainer at the gym where she works.

Ilana is a little younger, a little wilder, and a lot more crude. The only time she's going to work is to pick up her paycheck or a convenient place for a mid-day nap.

The best thing about Abbi and Ilana is that they are the most important person in each other's lives. They will do anything for the other and it's so rare to see a female friendship as the central thesis of a show that this feels like a blessing. The show not only portrays their friendship, it celebrates it. Sure, they talk about dudes and dicks and relationships, but they always end up together.
Get Some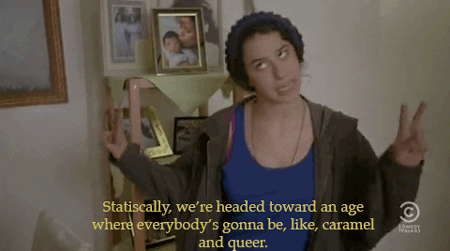 It's difficult, at times, to talk about how truly progressive and amazing this show is for women, especially when it comes to sexuality. It's difficult for a couple reasons, one because my mom reads this blog and there's still a line of propriety that I'm not sure I'm comfortable crossing in talking about sex on the internet; and two, this show is so prolific, that it's actually hard to narrow it down. Which, really, is why I love it.

Abbi and Ilana have sex. They have a lot of sex. They have good sex, and bad sex, and weird sex. They hit on guys. They get excited when they're called "hot". They call their vaginas "pussies" or any other number of slang words. They have kinks, and they're not ashamed. They try things. They experiment. They are fluid in their sexuality and it's not a big deal. They don't make a point to label themselves or pigeon-hole each other. They date and hook-up, they have one-night stands, and they celebrate being single. They're just two broads, having a good time living in New York City.