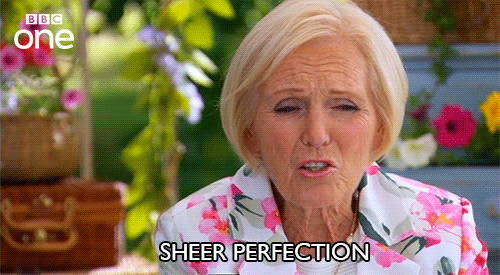 Overview
You may know it as The Great British Bake-Off, but either way, this show is sheer perfection. Twelve contestants are assembled and each week, one is crowned Star Baker, and one is sent home. There is currently three seasons available on Netflix. Each summer, PBS airs a new (to America) season.
Set-Up
Each episode has a theme: pastries, pies, cakes, biscuits, etc. And then, according to the theme, the bakers are given three distinct challenges: the Signature Bake, the Technical Challenge, and the Showstopper. The rounds are all judged by Mary Barry (cook book writer and a delight) and Paul Hollywood (less shout-y, bread obsessed Gordon Ramsey).

First up is the signature bake, in which each contestant must make their own version of the week's theme. This challenge is to show off their taste and style.

In the technical, all of the contestants are given the same bare-bones recipes and instructed to make identical bakes. Usually, none of the contestants have ever made whatever they're being challenged to bake in this round. Their bakes are all judged blindly by Paul and Mary, and then ranked from worst to best.

The showstopper is exactly what it sounds like, the contestants have to make something really cool, and usually some kind of baked structure.

The Hook
I can hear you sitting there, asking what the appeal of this show is. What differentiates it between any other cooking show on TV? Unlike most reality competition shows, this show doesn't foster rivalry and hostility, but that doesn't mean there's no tension. I have gasped, cried, yelled, and laughed in the course of watching this show. Probably over the course of a single episode. There is no greater drama than that of a cake dropping onto the floor.

I think the show's real power is in its editing. Viewers are given enough time with the contestants to learn their personalities without having to know their whole life story. It's easy to pick favorites, and nice to have someone to cheer for. It feels rewarding when we see quiet moments of contestants rushing to help each other when they have a moment to spare or one is in dire need of assistance. Occasionally one of the hosts (British comedy duo Mel & Sue) will accidentally ruin a contestant's bake by eating some of their ingredients. The time we spend with the judges and hosts is relatively minimal, and the interspersal of gorgeous shots of baked goods sure does help. In the end, the show has high tension with relatively low stakes and the camaraderie makes it more soothing to watch than most other competition shows. Great British Baking Show is the perfect show to watch after a bad day or when you're in need of a break from reality.