Overview
Based on a graphic novel, Preacher is about a West Texas preacher who gains a celestial power, then goes on a quest for God. It's about more than that, of course. It's about faith, and relationships, and how brutal humanity can be. It's about redemption, and betrayal. It's an interesting portrait of the lengths people will go to in order to believe in a higher power, the faith they put in a man of god, and how that belief can be swayed.

Of course, that's all putting things way too simply. The show is violent, and takes glee in enacting that violence (at one point, a character's arm is cut off by a chainsaw, and then the chainsaw drags the dismembered arm down the aisle of a church). I would argue, though, that it's done well. That the imagination and cleverness that goes into those acts of aggression make it something more than senseless. The audience doesn't always know why it's happening, but it feels appropriate. Despite the show taking almost until the end of the first season (which just ended) to get to the real thesis of the show, it's well worth the wild ride.

It was my favorite show this summer, hitting all of the check boxes that turn shows into my favorite: attractive men (Dominic Cooper wearing all black with a Southern accent 🔥🔥🔥) , mythology, violence, kick-ass women, and interesting conflict. The show also has some of the best cinematography I've seen in either movies or television. It's absolutely stunning. I'm not entirely sure how to write about Preacher without spoiling everything or doing it a disservice. There's no way I'll manage to tell you everything about it, but I hope this is enough to encourage you to give it a try.
Characters
Jesse Custer (Dominic Cooper) is the titular preacher. He inherited his small church from his late father and feels compelled to act as a shepherd of god because, as a child, he witnessed his father's murder and it was his father's last wish that Jesse "be good." Based on flashbacks and allusions, we can gather that Jesse hasn't always been a good person. Hell, he isn't for most of the show. Instead, he's conflicted, and power-mad, and wanting. When Jesse gains the power of Genesis, which allows him to command any living thing to follow his will, he abuses it. He plays god and people get hurt, some vindictively. He relishes the power and refuses to relinquish it, not until his sins are erased and he has spoken to God. When he tries, things don't quite go according to plan.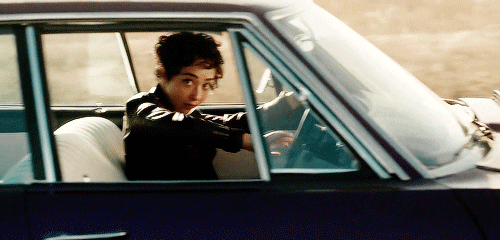 Tulip O'Hare (Ruth Negga) is Jesse's ex-girlfriend who's on a quest for revenge. She bursts back into town in attempts to win Jesse back and have him join her as she sets out to ruin the man who wronged them both. Sharp and violent, Tulip refuses to put up with anyone's shit. She's proud, commanding, and unapologetic. Like Jesse, she's not a good person, but that underlying frisson of danger keeps her getting out of bed in the morning. She's captivating.
Cassidy (Joseph Gilgun) is an Irish vampire. Yup, cue the absurdist. However, unless he is actively pursuing some vampiric behavior (such as using a broken champagne bottle as a tap to turn a man into a blood dispenser), it's easy to forget that particular trait of his. It's much easier, in fact, to remember his disdain for The Big Lebowski. He is Jesse's best friend and a wonderful foil – Cassidy, more than anyone else, is the one to challenge Jesse's humanity and the rationale behind his actions.
Mythology
Aside from Cassidy's vampirism, the show delves close to Supernatural territory with some of its mythology. Genesis, the aforementioned power that inhabits Jesse, is a power created by the coupling of an angel and a demon. It's storied to be a power that rivals only that of God. Early in the show, we see Genesis try and inhabit bodies other than Jesse's but they can't handle it. We don't know why Jesse is an appropriate vessel for Genesis yet, but I'm excited to find out.

Jesse is not supposed to have Genesis' power, so missionaries from Heaven, the guardians of Genesis, seek it out so that they may return it safely to its vessel. The vessel isn't anything exciting, only an old coffee can, and its lured out of Jesse with song. I'm still not entirely clear as to why.

The two men pictured above, Fiore and DeBlanc, are Heaven's missionaries. They seek Jesse out and do everything in their power to return Genesis to its rightful vessel. Their antagonist is a soccer mom-looking woman, a seraphim (powerful angel) whose job is to return the two angels from their unauthorized visit Earth-side. There's a lot to unpack, and at points in the show it's unclear exactly what's going on, but it's a hell of a ride.